MERMET'S "fabrics for life" begin with EVERYDAY LIFE in mind, whether at home, in the office, hospitality or healthcare. Our state-of-the-art weaving process creates designer fabrics which function beautifully to maintain the view while efficiently managing the effects of the sun.
E-SCREEN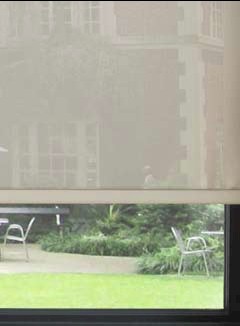 Transparent

Color monitors might not display colors accurately.
Please contact OEM Shades Inc. at the address
below to receive sample color swatches.
E-SCREEN- Colors
Fabric Color
% Openness - Style #
1% - 7501,
3% - 7503
0101 Grey/Grey
1% - 7501,
3% - 7503
0102 Grey/White
1% - 7501,
3% - 7503,
5% - 7505,
10% - 7510
0202 White/White
1% - 7501,
3% - 7503,
5% - 7505,
10% - 7510
0207 White/Pearl
1% - 7501,
3% - 7503,
5% - 7505,
10% - 7510
0220 White/Linen
5% -7505,
10% - 7510
0707 - Pearl/Pearl
1% - 7501,
3% - 7503,
5% - 7505,
10% - 7510
2020 Linen/Linen
5% - 7505,
10% - 7510
2022 Linen/Stone
1% - 7501,
3% - 7503,
5% - 7505,
10% - 7510
3001 Charcoal/Grey
1% - 7501,
3% - 7503,
5% - 7505,
10% - 7510
3006 Charcoal/Bronze
1% - 7501,
3% - 7503,
5% - 7505,
10% - 7510
3030 Charcoal/Charcoal