MERMET'S "fabrics for life" begin with EVERYDAY LIFE in mind, whether at home, in the office, hospitality or healthcare. Our state-of-the-art weaving process creates designer fabrics which function beautifully to maintain the view while efficiently managing the effects of the sun.
T-SCREEN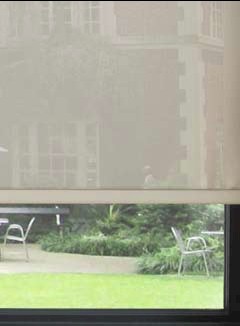 Transparent
Transparent solar screen fabrics allow light to pass though the weave of the fabric so that objects in the background remain visible.

Color is the most important factor in determining the overall performance of transparent solar screens. Darker colors absorb more solar radiation and transmit less light, improving transparency during daylight hours. Lighter colors absorb less radiation and permit more light, preserving natural light levels. All transparent fabrics are inherently flame retardant an dimensionally stable.



Color monitors might not display colors accurately.
Please contact OEM Shades Inc. at the address
below to receive sample color swatches.
T-SCREEN- Transparent
Classic Colors - 3% Openness
Fabric Color
Style #
1030-Sable/Charcoal
0220-White/Linen
M163-White/Sable-Mustard
M164-White/Sable-Cocoa
1020-Sable/Linen
6161-Cocoa/Cocoa
0202-White/White
0207-White/Pearl
M116-White/Charcoal-Grey
M85-Charcoal/Linen-Pearl
3001-Charcoal/Grey
3030-Charcoal/Charcoal
T-SCREEN- Transparent
Fusion Colors - 3% Openness
Fabric Color
Style #
M156-Charcoal/Fall-Hazelnut
M161-Cocoa/Grey-Straw
M151-White/Sable-Straw
M153-Sable/Straw-Cocoa
M155-Sable/Cocoa-Hazelnut
M158-Cocoa/Apricot-Mustard
M154-Cocoa/Sable-Linen
0210-White/Sable
M157-Cocoa/Phoenix-Mustard
M159-Cocoa/Phoenix-Fall
M162-Cocoa/Sable-Cocoa
M160-Charcoal/Sable-Cocoa