Incline Shades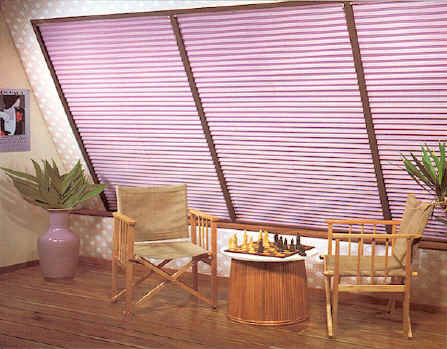 Features
Tension cords hold shade at desired level.
Permanent head and bottom rail installation provides stationary tension cords to prevent shades from sagging.
Operates at both acute or obtuse angles.
Handles on traveling rail.
Provides door window shading.
Measuring
Sketch diagram of installation and provide the standard shade measurements.
Installation Note
Stationary bottom rail mounts as per standard headrail fastening clip and may necessitate inside mounting.
Ordering Information
All orders for incline shades must be sent to OEM Shades Inc. at the address listed below. Refer to the bottom of this page for street address, email address, and phone numbers.
Information/specifications required for the shades must be sent to us by mail, e-mail, or fax so that your order can be processed. We will respond to you with a price quotation.
We accept Master Card and Visa.
We will also accept personal checks or money orders payable to OEM Shades Inc. to pay for your order.
We will ship after payment is received.

Special Ordering Information
Specify "Incline" shade.
Include diagram of shade installation.
Order as for standard shade