Between the Glass Shades for Pella Products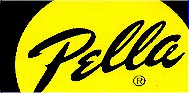 Pella Corporation is one of the world's leading manufacturers of premium-quality windows and doors.
Windows and Doors Equipped with * Double Glazing Panel
OEM's pleated between the glass shades work beautifully on Pella* windows and doors. By allowing you to control light and privacy, pleated shades provide still another design to accent the home.
OEM's pleated shades are available for nearly all of Pella's* windows and doors, whether windows are equipped with double glazing panels or insulating glass. For special applications with uniquely shaped windows, pleated shades may either be fixed or partially functional.
Application
Function
Fabrics Available
Measuring Instructions
Ordering
For measuring and ordering instructions contact OEM Blinds LLC. at the address and phone number listed at the bottom of this page.